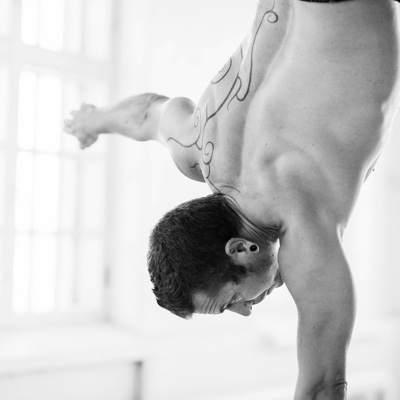 Jaakko Tenhunen
Roots
Growing up in Finland, there were few activities that didn't involve nature or the outdoors. I held the rudder of a sailing boat, and cannonballed down the forest covered hill with two ski lifts in my red helmet before even becoming properly sentient. Until accidentally finding acrobatics, my winters were spent in the nearest snowboard park, summers out at sea. A deep connection with the elements was established during those early years and it is still one of the things that has shaped me the most as a person.
Acrobatic Studies
Youth spent in constant motion made we want to have the most physical profession I could find. After I discovered the possibility to do a University degree in Contemporary Circus Arts, there was no looking back.

A lifelong background in water and boardsports is not the most common route into professional acrobatics, but the transition felt natural nevertheless. Some abilities, like the aerial awareness gained through years of snowboarding, was directly applicable to certain circus disciplines, such as trampoline.
The Arts Academy in Turku served as the perfect platform for creating a strong foundation in a huge range of different physical disciplines. A steady diet of acrobatics, balancing, dance and object manipulation was offered on a daily basis. Though I thoroughly enjoyed all of it, there was one discipline that stood out very early on. It's independent, solitary nature, the combination of balance and strength seemed unique. It's non-reliance on equipment, space or other people was the perfect, minimalistic match.
During the first year of my studies I got a crash course into hand-balancing, and due to the help from my first teacher Anatoly Grigoriev I made rapid progress, but the desire to learn the art to a high level required specialisation and eventually a move to the Capital of Ukraine, Kiev, followed.
Kiev
I will never forget the day I stepped into the small room at the heart of the old city. The technical level in Kiev was through the roof, the work capacity inhuman. What to me seemed like magic, however, was seen as normal.At first, the goals I had set for myself seemed distant, but eventually balancing on one-arm and speaking Russian language became my normality as well. At the time as the only foreigner, I was fortunate to be able to train with Vitold Antonovich, an old, radiating man who eventually became a mentor and friend. I was also fortunate to train alongside hand-balancers, whose output and training methods forever changed my views on what the body was actually capable of.
 UK and Artistic Work
After three years it was time to put the things I had learned into practice. A move to the UK followed and I started earning a living as a performing hand-balancer and physical artist. The next decade was spent exploring every possible performance platform available, from touring in big-tops and cabarets to long site-specific solo shows, to huge stadiums in the Middle East, to balconies above the streets of Central London.
 Languages and Teaching
Studying languages has always gone hand in hand with practicing physical disciplines for me, which was the main reason for beginning yearly visits to South-America in 2008. The year 2010 saw the first trip to Brazil. Everything about the environment felt right. The heat. The colourful, wide language and its ever present physicality. The rhythms and the earthiness. The diversity and intensity. Today I'm proud to call the country my home for a part of the year.  
As a result of that 10-year travelling investment, besides English, Finnish and Russian, I also communicate in Brazilian Portuguese and Spanish.
One thing that is worth noting, is that I was already in my twenties when I tried to do a handstand for the first time. In terms of building a career out of performing it, it wasn't the easiest starting point. Later, however, especially in terms of teaching it has become a strength. A large part of our students start their hand-balancing practice as adults and having started later myself gives me  insight into the obstacles they face during their learning process.
Though no longer an end-all for me, I consider hand-balancing to be an incredible tool. Among all the physical activities I've ever been involved in, it still stands unique. The physical aspects aside, it is the patience, commitment and resilience the practice requires, that hold the greatest value in the end and are also applicable to anything one chooses to do in life.
Start your journey toward balance of the body and mind.
Get the tools and knowledge you need to begin your training.