Online courses created by professional hand-balancers.
Our courses are suited both for those who have never tried any kind of handstand training and simply want to improve their balance, flexibility, focus and strength, but also for anyone who wants to pursue more advanced, and highly precise balancing techniques, such as the ever elusive one-arm handstand.
See courses below.
Hand-balancing practice is one of the most fascinating tools for developing increased and profound body awareness.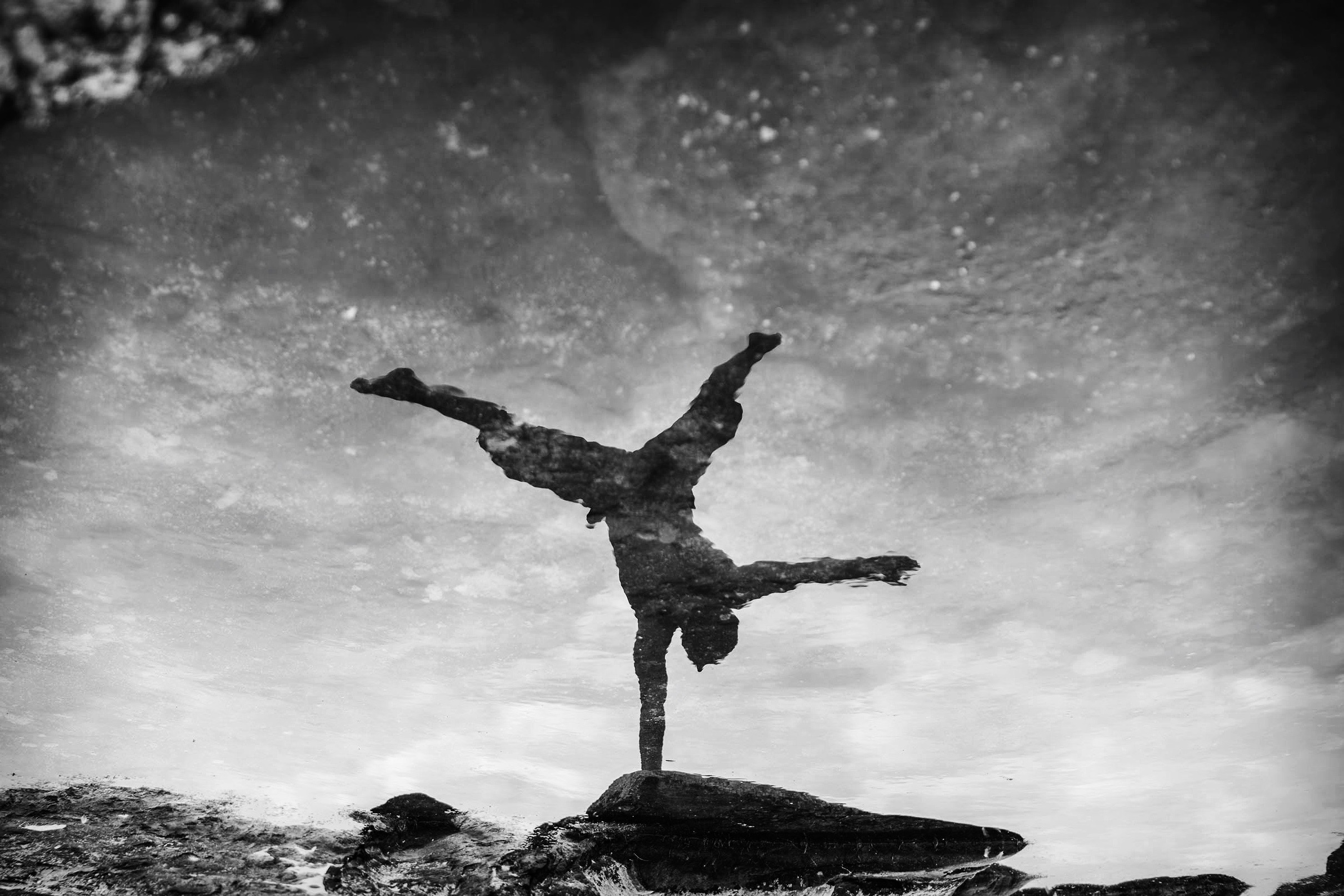 From a purely physiological point of view, it is the prolonged full body contractions, and the time spent under tension that make it unique among any form of physicality.
The 'upside down' nature of hand-balancing and the fact that the practitioner can only see their own hands while standing upside down, while the rest of the body is being felt through movement into highly precise alignment in order to hold still positions, makes it that much more unusual.
Its non-reliance on place, equipment or other people is another thing that makes hand-balancing quite unique. It follows you wherever you go. Always there with you when you need it. A companion, an assistant, a teacher. And there are few teachers that will teach you as much about patience, perseverance, resilience and focus as hand-balancing will.
Frequently Asked Questions
Do I need equipment to be able to train handstands?
No. One of the best things about balance training is its simplicity. A somewhat even surface and enthusiasm is all you need to get started.
How Do I Get an eBook PDF When I Buy One of the Courses?
Please email us at info@room21.net after your purchase and we will send you your ebook. It will be downloadable immediately.
Will hand-balancing get me ripped?
It depends on many factors. How many hours a day you train, how much conditioning you're doing or the amount of food you eat or move around in general. It can certainly make you strong, but if simply getting ripped is your goal, there are much easier ways to achieve your desired results.
For those looking for increasing overall body awareness and a more mindful way to move, it is an exceptional tool.
Where do I start when I buy one of your Online Courses? I've never created a training routine/program before.
All exercises in our courses are listed according to their difficulty level and natural progression. Depending on your level of skill, you can either work starting from the top of the list or choose drills in a random order to insert them into your existing training. The eBooks that come with our Courses contain plenty of programming, including ready-made training routines that you can follow or use as a blueprint to create your own.
Do you have a money back Guarantee?
If you for any reason can't access the videos and teaching material after payment, you are entitled to a refund.
However, simply because the course was too hard or 'wasn't for you', we do not have a money back guarantee. Our methods have been tried and tested by generations of balancers. You put in the hours, they work. Simple as that.
How is my payment processed?
Your payment is processed securely by Vimeo and already includes VAT and all taxes. There are no hidden fees. What you see is what you pay.
All major cards and PayPal are accepted.
Do I need to be athletic to be able to do the exercises?
Not necessarily. The beginner's course is designed for those who have absolutely no previous experience. We provide you with a large number of mobility and flexibility drills to prepare your body for the actual balancing exercises. However, we still encourage you to check in with your physician before trying any of the drills. For those with some degree of body awareness and past or present experience with physical exercise, it must be understood that you assume all the risks associated with engaging in any physical activity via our tutorial.
The only prerequisite is that you are healthy and have no underlying injuries or illnesses that could make balancing practice dangerous for you. As long as those conditions are met, hand-balancing is a fairly low-risk activity.
Start your journey toward balance of the body and mind.
Get the tools and knowledge you need to begin your training.